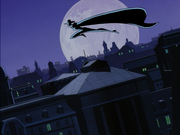 Meridiana is a fictional city within the Cybersix series. It is the home of the character Cybersix, which she protects from the scheming Von Reichter and his clone-son José and the numerous monsters they send.
In the comics, Meridiana is a city full of crime and immorality where Von Reichter's creations hide as normal civilians. Despite this, Cybersix considers it her home.
It is presumably located in Argentina, South America.
Notable Locations
Meridiana Treasurey
Meridiana Docks
Gallery
Comic
Live-Action
Animated
Background Artwork
Production Art
Main Series