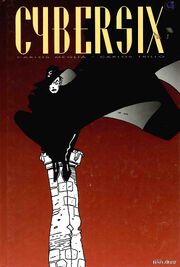 This is the first of twelve volumes for the French edition for the Argentinian Cybersix comic series and contains weekly issues 1-15 and an additional non-weekly issue. It was translated by Vents d'Ouest and first released in November 1994. It is written by Carlos Trillo and illustrated by Carlos Meglia.
The series was originally published in Italian by Eura Editorale in 1993, later being published in Spain, Argentina and France.
Summary
Cybersix is initially introduced through her alter ego, Adrian Seidelman, and lives in Meridiana where she lives a double life.
Issues Contained
Character Debuts (In order of appearance)
Trivia
For unknown reasons, the sixteenth chapter of the volume does not take after the sixteenth weekly issue, Fear of Blood, and instead is replaced by the issue Meridiana.
References
External Links
See Also
Gallery